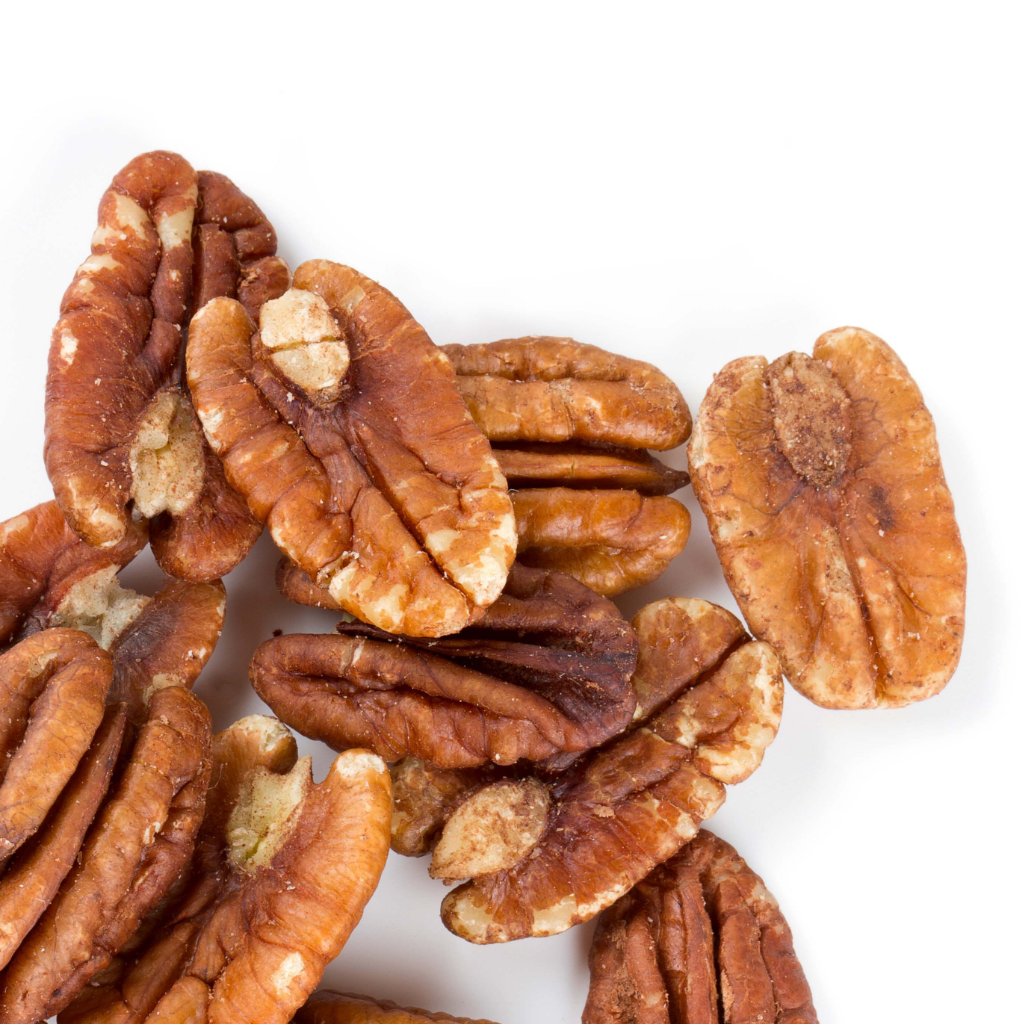 Pecans, large, raw halves
Save

Liquid error (snippets/product-badge line 32): Computation results in '-Infinity'

%
Pecans are delicious on their own, and add flavor and nutrition to many foods—from salads, vegetables, spreads and toppings to baked goods and ice cream. And of course, pie! Pecans are packed with nutrients like iron, calcium, potassium and B vitamins. They're a great source of protein and fiber. Best of all, they're high in antioxidants, which help lower cholesterol and reduce health risks including heart disease, some cancers, and neurological diseases like Alzheimers. Pecans have more antioxidants than any other nut: over 5 times as much as peanuts or cashews, 4 times as much as almonds, and nearly twice that of hazelnuts or pistachios. Nuts are a great snack, and pecans are the healthiest nuts of all! 

Learn More About the Product/Supplier
New Communities has worked for over 50 years to empower African American families in Southwest Georgia. As the first community land trust in the US, they turned the loss of their land due to discrimination into a story of resilience and opportunity. Today, on one of the largest former slave-holding plantations in Georgia, they are building a center for social justice and racial healing. Their restored pecan orchard is a model of ecological production and supplies their premier product, supplemented with pecans grown on other Georgia farms. All pecan sales support this visionary development project to improve production and quality, and increase the acreage of neighboring African American pecan growers.
New Communities grows two hundred acres of pecans with over five varieties that are harvested throughout the season. As a biennial crop, similar to apples or peaches, pecan trees have alternate-bearing crops, meaning the size of the harvest varies from year to year. Pecan trees mature over five years before they start producing nuts, and require year-round attention from growers. In January, pecan trees are planted and pruned, then irrigated and fertilized in March and April. Throughout the summer, the crop is carefully managed for disease and pests before harvest in October and November.
Georgia pecan growers face unique pest and disease pressures throughout the season. With careful monitoring, growers can identify, manage and reduce risks on the farm. Growing ecologically with integrative pest management (IPM) strategies provides tools to minimize economic, health and environmental risk. This approach emphasizes working with nature and natural controls first, and only spraying for pests when it is safe and necessary. 
Contains tree nuts
Store Georgia pecans in the refrigerator or freezer, in airtight containers or bags. Pecans stay fresh for up to 6 months refrigerated. In the freezer, they keep for up to 2 years.